The David Whitney Story
Part III – Chapter 1
Young Man and Siblings go West
David Returns Home to Family in Vermont.
When David Whitney returned home to Brookfield, Vermont, in 1865, he was no longer the teenage farmboy who at age 18 had followed an older brother into the volunteer army in the fall of 1862. He was now a 21-year-old young man and a veteran of 28 months of war service, the last eleven of which involved him in some of the most intense and deadliest battles of the Civil War.
During his first enlistment David saw many of his comrades-in-arms die of diseases spread in the harsh and unsanitary conditions of their encampment in northern Virginia during their defense of Washington. In his second enlistment, many of David's closest comrades fell around him at the many scenes of battle he witnessed first hand, some of them dead where they fell, others severely wounded, many mortally so. Still others were taken captive, many of them dying as prisoners in the squalid conditions of Confederate prisons. David was fortunate to have escaped with only one, fairly minor wound, which he suffered at the very end of the war.
Since the loss of his brother Alonzo as a war casualty the previous December, David was now Daniel and Julia Hall Whitney's oldest surviving son among the original five. In addition to his three younger brothers, David still had all six of his sisters, four older than him.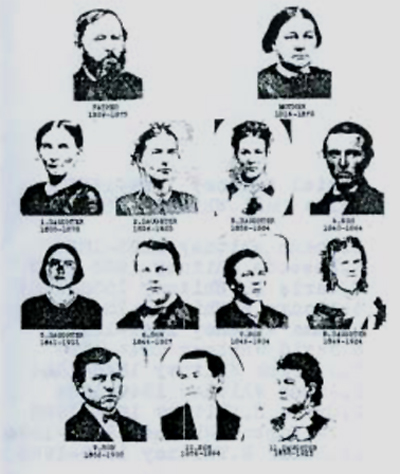 Image from private collection offamily of Charles W. Whitney, Sr.David Whitney's son
Of these four older sisters, two were already married, both to Civil War veterans—Emma to Alonzo's original comrade-in-arms, Alpheus Cheney, and Maria to David's co-combatant from his first enlistment, Edwin Sprague. The other two, Roann and Rosette, were to be married within the next two years. His younger siblings—Daniel Frank, Cyrus, Walter Eugene, Amine, and Julia Ella—ranged in age from seven to nineteen. He also had one nephew, Ulysses G. Sprague, born just before the end of the war. When he returned home healthy and recovered from his leg wound, David must have received from his family in Vermont a lot of warm greetings expressing joy and relief.
David Migrates West to Iowa
When he returned to Vermont, David was due to receive at least $260. He had been promised a bounty of $400 when he re-enlisted in December of 1863 but had received only $140 of it before mustering out. He also may have saved part of his private's pay during his term of service. What money he had at this point may have become part of his plans for the future.
David remained in Vermont for a brief time, but the promise of new, unspoiled lands must have lured him to start his migration west, ending ultimately in Osceola County near the town of Sibley, in extreme northwestern Iowa. If the promise of land is what took him westward, then he was sharing an experience with his Massachusetts-born grandfather Whitney, who had migrated to Vermont on the promise of fresh farmland. It is also possible that with so many siblings still at or near his parents' Brookfield home—especially his brothers aged 9, 13, and 19, and his brother-in-law, Edwin Sprague, who lived nearby—David felt no need to stay and support the family. Whatever his reason or reasons for heading west, before long he was a farmer with his own land in Black Hawk County, Iowa, soon to be married and moving on to Sibley.
Establishing New Family Ties in Iowa
In September, 1871, Civil War veteran and novice Iowa farmer David Whitney married Mary Jane Cutshall of neighboring Buchanan County. Mary Jane was born in 1850 in Indiana and, like David, came from a family of 11 children. Her father, Eli Grant Cutshall, had moved across country himself, having been born in Hagerstown, Maryland, and then transplanted with his family to Fort Wayne, Indiana. Her mother, Dorcas Price, born in Pittsburgh, Pennsylvania, had also traveled west before getting married. In 1856, six-year-old Mary Jane's family migrated to Iowa in a covered wagon.
One of Mary Jane's brothers, Sam Cutshall, was a year younger than David and, like David, had volunteered as a teenager for service in the Civil War. Sam was a member of an Iowa cavalry regiment that fought in the war's western sector. Thus by his own marriage, David acquired a third war veteran brother-in-law. After the war, Sam also became a farmer for a short time in Black Hawk County, but after getting married in March of 1870, he took his bride further west that winter to Clay County, Iowa. Uncle Sam, as he was known later to Mary Jane's children and grandchildren, lived the rest of his life in Clay County, first on a farm he homesteaded in Lake Township in the county's northeast corner that includes the county's lakes, later in Dickens, and finally Spencer.
Another of David's war veteran brothers-in-law, Alpheus Cheney, brought his wife, David's sister Emma, to Buchanan County, Iowa, where their first child was born before 1870, but they ended up homesteading in Clay County around the same time as David's other brother-in-law, Sam Cutshall. It is highly likely that David came to Iowa at the same time as Alpheus and Emma, and there may be a link between his two brothers-in-law leaving Buchanan County and migrating further to the same place at the same time. David, however, waited a short while before moving to the wide-open high plains of Northwest Iowa in 1872, the year after he was married.
Mary Jane had another brother, Thomas Jefferson Cutshall, who moved from Buchanan County to Northwest Iowa, this one also preceding David and Mary Jane, coming in the spring of 1871, to Wilson Township of Osceola County, northeast of Sibley. There he staked a claim to land in the south half of a section bordered by present Iowa highways 9 and 60. Jeff, as he was called, was nominated for the post of Sheriff in the first Osceola County election, held in October that year. He tied his opponent, but when neither of them showed up in January for a drawing to determine the winner, another man was appointed to take the position.
Jeff Cutshall had a wife named Catharine and a daughter named Edna, born in 1876. He remained in Osceola County for several years, splitting his time between working his claim and cobbling shoes in Sibley. But by 1892, he had moved on to Omaha, Nebraska.
Other Siblings in Iowa
In addition to his sister Emma, David wasn't the only other member of Daniel and Julia's family to find a home in Iowa. David's brother Daniel Frank, who was two years younger, was married at Dayton in Webster County, Iowa, in 1874 and settled subsequently at Sumner, in Bremer County, bordering on Black Hawk and Buchanan Counties. The youngest brother, Walter Eugene, studied medicine at Rush Medical College in Chicago and also became a registered pharmacist. He then practiced medicine and established a drug store in Tripoli, near Sumner where Daniel Frank had his home and also in Bremer County.
David's youngest sister, Julia Ella, was the only one of his siblings to settle in Sibley. By 1879, when she was 21 years old, Ella, as she was called, was teaching school in Osceola County. That year she was married to Hiram Neill, Sibley and Osceola County's pioneer doctor. Dr. Neill had a few things in common with Ella's brothers: like Walter Eugene he became a praciticing physician in a small Iowa town; and, like David, he was a Civil War veteran, having served in a Minnesota infantry regiment.
Dr. Neill was not a Minnesota native, however, but had eastern origins similar to his bride's. He was born in 1844, the same year as David, in Canada at Granby, Quebec, only about 30 miles north of Vermont or about 130 miles from Brookfield. When he was eleven, his family moved west, settling near Lake Minnetonka in Hennepin County, southwest of Minneapolis.
Hiram Neill was one of six brothers or brothers-in-law from Minnesota who served in the Civil War, but only he and one other survived. One had died of disease in 1862, but one was killed at Gettysburg, another at the Wilderness, and one died of wounds suffered at Cold Harbor, all battles David Whitney had participated in. If Alonzo Whitney had survived the Civil War, he might have done what his youngest sister's Civil War veteran husband did, become a pioneering physician.
The Rest of the Family
David's oldest sister, Roann, was married in 1866 and lived in Vermont until she died in 1878, only four years after her only child, David's nephew, was born. Both of David's other two sisters, one older, Rosette, and one younger, Amine, were married in December 1868 and, like most of their siblings, migrated west, both settling in Fort Atkinson, Wisconsin.
This multiple migration west by their children left Daniel and Julia with only one son and one other daughter besides Roann remaining in Vermont. Their daughter Maria, who was married to Civil War veteran Edwin Sprague, lived there the rest of her life. Their only surviving son who hadn't gone west, Cyrus, married Edwin Sprague's sister, Luthera, and remained in Vermont, perhaps on the original family farm.
Daniel and Julia may never have seen most of their children again after they left home and headed west. Julia died on March 11, 1873, at the age of 57, and Daniel, aged 64, followed her that same year on July 25th. They are buried in Brookfield's East Hill Cemetery in the same family plot as their son Alonzo, daughter Maria, and son-in-law Edwin Sprague. Their son Cyrus and his wife, Luthera, are buried in that cemetery also.
Daniel and Julia's two youngest children, Walter Eugene and Julia Ella did not leave home or set off on learning a profession until after their parents had died. That winter 17-year-old Walter Eugene taught school in Vermont but left the next year for Ft. Atkinson, Wisconsin, where two of his sisters lived. There he taught school again, this time for three years, but then joined his oldest surviving brother David at Sibley. Here he studied medicine for a year, probably with Dr. Hiram Neill, who soon would marry David and Walter Eugene's sister, Jula Ella. Walter Eugene then went on to three years of medical school in Chicago before settling permanently in northeastern Iowa.
The youngest of David's orphaned siblings, 15-year-old Jula Ella, possibly left Vermont at the same time as her brother to stay with family in Wisconsin. At least it seems likely that Julia Ella was drawn further west to Sibley at the invitation of an older brother who was becoming established as a pioneer Iowa farmer.