The David Whitney Story
Part III – Chapter 3
The 20th Century and Beyond
Moving into the 20th Century
David and Mary Jane remained on their farm west of Sibley until 1916. By that time most of their children had moved away, some of them west to South Dakota, Montana, Nebraska, and Oklahoma, but others stayed nearby. David had acquired land not far away in southwestern Minnesota, where his youngest son eventually set up farming.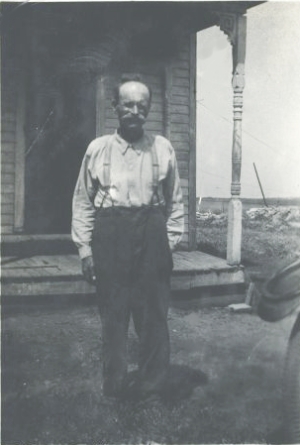 Photo from private collection offamily of Charles W. Whitney, Sr.David's son
The Iowa homestead remained in the Whitney family until 1940, but in 1916 David and Mary Jane moved back to her family's home area in Buchanan County, Iowa, and lived in the town of Independence until her death two years later.
When they left for Independence in 1916, David and Mary Jane's second youngest son, Charles Wesley, who had married Lilly Salzman the previous year, took over operation of their farm.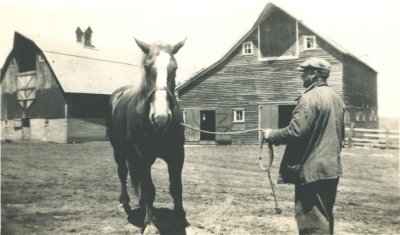 Photo from private collection offamily of Charles W. Whitney, Sr.David's son
Charlie and Lilly already had a son and another child on the way in 1916, with seven more to come over the next 19 years.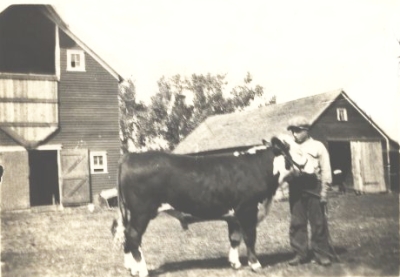 Photo from private collection offamily of Charles W. Whitney, Sr.David's son
All of Charlie's children, David's grandchildren, were born on the family farm except for the youngest, who, in 1935, insisted on being born in the Sibley hospital.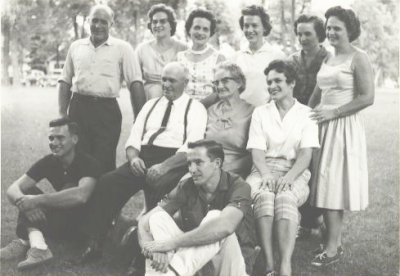 Photo from private collection offamily of Charles W. Whitney, Sr.David's son taken in the1950'sby either Gerald Snethen or Donald Gaster
After Mary Jane's death, David returned to live with his children, primarily with Charlie and his family on the Sibley homestead. David lived long enough that seven of Charlie's nine children were born during his lifetime. But he also visited and stayed at times with other of his children, especially in the winter, when he escaped the fierce Iowa blizzard country to keep warmer at the home of a daughter in Oklahoma.
Photo from private collection offamily of Charles W. Whitney, Sr.David's son
David took at least one other long distance trip outside Iowa. In 1913 he returned to Gettysburg, Pennsylvania, for the 50th anniversary reunion of participants in the Battle of Gettysburg, sponsored by the Grand Army of the Republic (GAR), an organization of Civil War veterans to which David belonged. David was the only war veteran then in Osceola County eligible to attend, based on his service at Gettysburg with the 15th Vermont Volunteer Regiment.
In September 1927, when David Whitney was 83 years old, he died at the home of one of his daughters in Nebraska. His body was returned for burial in his family plot in Holman Township Cemetery near Sibley. There he lies in rest alongside his wife, Mary Jane, their oldest son, Walter, and two other sons who had never married.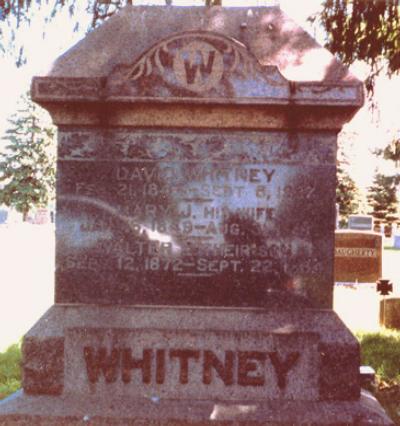 Photo by Jennifer Mary WhitneyDavid's great-granddaughter
This ends the story of David Whitney, Vermont native, Civil War veteran, Iowa pioneer, and gentleman farmer. But those Whitney family experiences shared by many in David's family line continue. Several of his children, grandchildren and great-grandchildren have served in the military, some of them during wartime. Of the children and grandchildren of David's son Charlie, who were mostly born in Iowa, many have remained in Iowa. But others, including some from even later generatons, have migrated west, even as far as the border and continental limits of the United States, to places like Colorado, Texas, New Mexico, California, Oregon, and Washington.
Some third and fourth generation Iowa-based descendants of David Whitney have reversed the westward trend. Three great-grandchildren make their homes near the sites of the Civil War battles where David fought: one great-grandaughter lives in Petersburg, Virginia, where the Civil War ended, both for David with his wounded leg and for the Union with the Confederate surrender; another great-grandaughter and her children have their home in Hagerstown, Maryland, in the midst of the area north of the Potomac David knew so well; and one great-grandson and his son live further down the road in Maryland, at the edge of the nation's capital, whose integrity David helped restore. In addition, one great-great-grandson from California, whose father was born in Northwest Iowa before migrating west with his family, now lives in New Hampshire, the state next to David's home state of Vermont.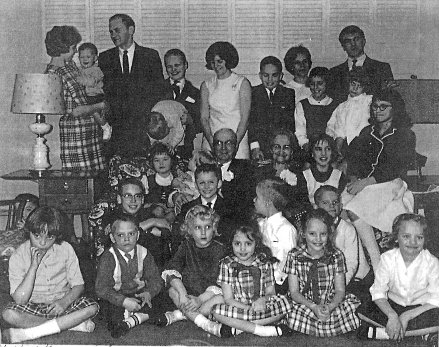 Photo from private collection offamily of Charles W. Whitney, Sr.taken by Gerald Snethen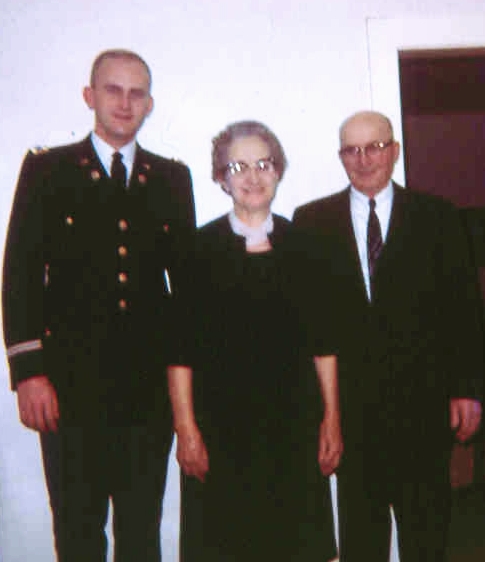 Photo by Hazel Whitney EichmanDavid's granddaughterLilly and Charlie's oldest daughter