The David Whitney Story
Afterword
by
Thomas Lee Eichman
This version of my great-grandfather David Whitney's story took its inspiration from a journey the co-authors, my mother, Hazel, and I, Tom Eichman, made in early June 2000, to Orange County, Vermont, where David was born and raised before he went off to war at the end of 1862. When David, her grandfather, died in 1927, my mother was nearly eleven years old and, until her death on Christmas Day, 2006, had vivid childhood memories of him and his stories about Vermont.
In our trip to Vermont we visited the areas my mother had only heard about. We saw the ancestral farm established in Orange County by the original David Whitney, my mother's grandfather's namesake grandfather, who came to Vermont from Massachusetts at the turn of the 18th Century. This farm lies on a part of the prominent feature in the area, Whitney Hill, named for the three brothers from Massachusetts who settled there.
Hazel Whitney Eichman at the House on the Whitney FarmNorth Tunbridge, VT, June 2000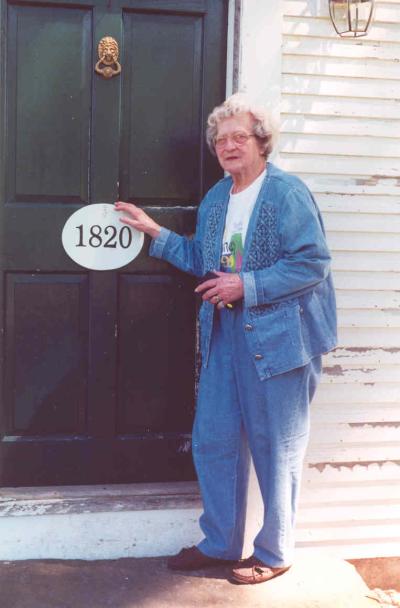 Photo by Thomas Lee Eichman
Up from the farm, along a road named Whitney Hill Road, we saw the Whitney Hill School and up behind it Whitney Hill Cemetery at the edge of Whitney Hill. In that cemetery we found the graves of several Whitneys, including the original David Whitney and his wife, Susannah, but only these two in our direct lineage.
These Whitney places, the farm, the hill, the road, the school, and the cemetery are all on the east side of the hills that separate two forks of the White River, and they are all located in the north part of the town of Tunbridge. In New England tradition, 'town' is the designation for an area more like 'township' in the midwest.
Whitney Hill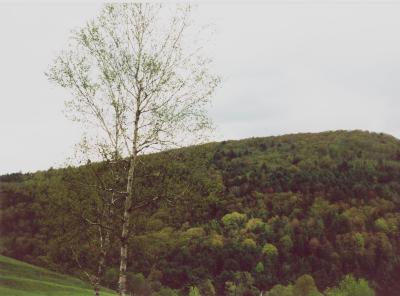 Photo by Jennifer Mary Whitney
Intersection of Whitney Hill Road and Vermont Highway 110Along the East Fork of the White RiverNorth Tunbridge, VT
Photo by Jennifer Mary Whitney
Whitney Hill School on Whitney Hill Road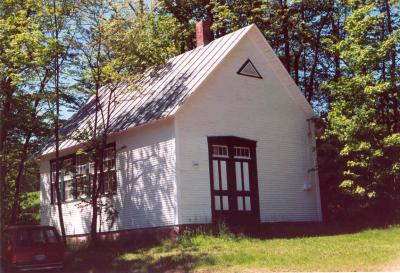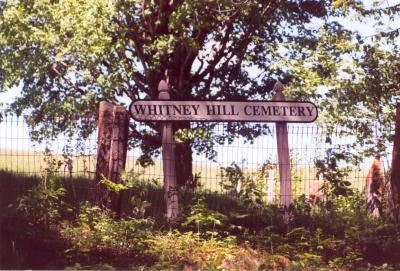 Whitney Hill Cemetery off Whitney Hill RoadBehind Whitney Hill School
Photos by Thomas Lee Eichman
After we attended a Sunday church service in the village of Tunbridge and met there with some Whitney descendants and a few officers of the local historical society, we realized that David Whitney had moved at an early age with his parents and siblings to the town of Brookfield in the western part of Orange County. Since we hadn't found any graves from that family in the Tunbridge area, we continued our search the next day, our last day there, at cemeteries in Brookfield Town. A historical society officer had given us clues about the location of some Brookfield cemeteries.
Our search in Brookfield Town turned up many Whitney gravestones but none from David's immediate family. When we were getting ready to leave Vermont, a man in Randolph, another Orange County town, told us about an old cemetery up a hill to the northeast in Brookfield Town. Unfortunately, my mother and I had to leave before we were able to visit that site.
But most fortunately, two years later, in May 2002, another David Whitney descendant, my cousin Jennifer Whitney—who my mother and I had visited in 2001 at her home in Petersburg, VA—traveled to Orange County Vermont on a path similar to ours. I provided Jennifer information about the family locations in Tunbridge Town and tentative directions to the cemetery in Brookfield Town that my mother and I had been unable to visit.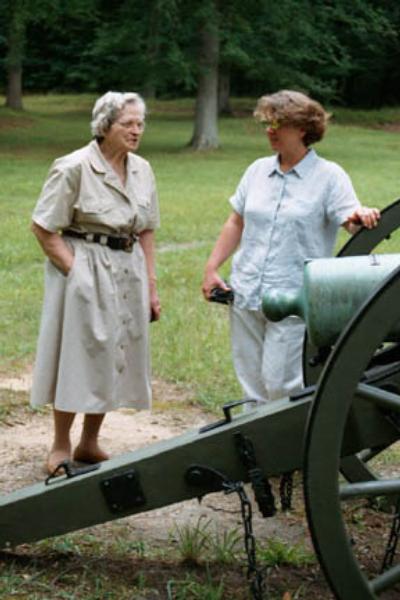 Photo by Thomas Lee Eichman
Hazel Whitney Eichman and Jennifer WhitneyAt a Preserved Civil War BattlesitePetersbug, VA, Spring 2001
Jennifer did indeed find that cemetery and in it the graves of David's father and mother and his brother Alonzo and sister Maria, along with that of Maria's husband, Edwin Sprague, who had served with David in the first part of the Civil War. Jennifer's discovery of that burial ground with its towering monument to Alonzo, the family's Civil War casualty, was further inspiration for me to continue the research into David and his family's story that my mother had begun.
In July 2006, my wife, Alice, and I traveled to Barre, VT, where, at the Vermont Historical Society Library, I read letters home from the Civil War written by Edwin C. Hall, another young Brookfield volunteer and comrade-in-arms to David Whitney during his war experiences, serving with him in the same units from beginning to end. Alice and I also visited the East Hill cemetery in Brookfield that my mother and I had been unable to find in 2000.
Tom Eichman at Daniel Whitney Family PlotEast Hill Cemetery, Brookfield, VT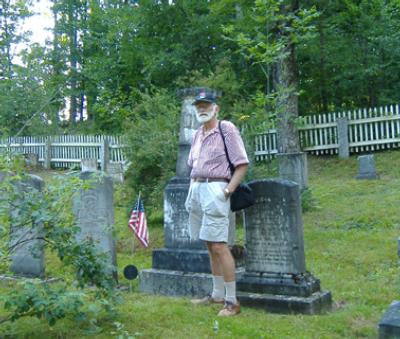 Photo by Alice Eichman
I based all of my research on the very substantial resources my mother had discovered and assembled while tracking the genealogy of her Whitney family and her grandfather's story. She had prepared and distributed as an educational project a summary of her findings to her brothers and sisters and some of their children—David Whitney descendants all—at a family reunion in July 1999 that celebrated her mother's teaching career.
I supplemented my mother's research with many details from several sources: copies of the official Civil War records of David and his brother and brothers-in-law that I obtained from the National Archives; copies of the letters Alonzo Whitney and Alpheus Cheney had written to the Coolidge family that I obtained from the Vermont Historical Society's library; the letters by David's comrade-in-arms that I read at that library; and the substantial two-volume work by George Benedict, "Vermont in the Civil War", along with a few other historical books and articles.
My formal training as a U.S. Army infantry officer allowed me to understand and interpret the military-style notations I found in the records as well as references to military things in the letters and books. My long professional experience as a teacher, educational writer, and author of numerous official intelligence reports, editor of even more, has contributed substantially to my presentation of David's story in an educational format. My son's exquisite knowledge of web design has made David's story's appearance in this format possible.
The Osceola County portion of David's story is a somewhat revised version of an article my mother had previously published in the Sibley Gazette in 1972, the centennial of the establishment of Sibley and Osceola County and also the centennial of David's arrival in Northwest Iowa.
The present story is a work of love by my mother for her grandfather and his family and by me for my mother. Thank you, David, for establishing our Whitney heritage and for inspiring us, your descendants. And thank you, Mother, for inspiring me to follow David's trail.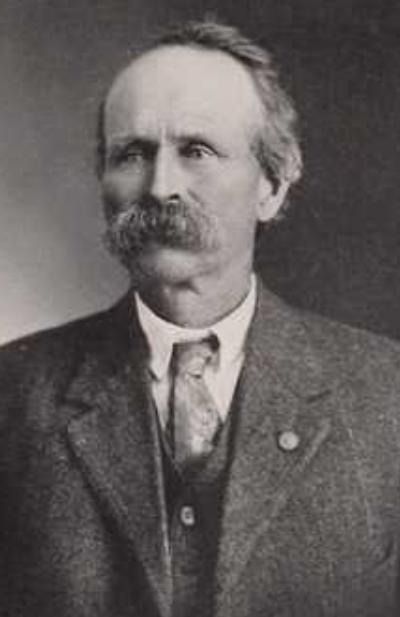 Illustration from Past and Present of O'Brien and Osceola CountiesB. F. Bowen and Co., 1914
Content researched and written by Hazel Whitney Eichmanand Thomas Lee Eichman
Web design by Peter Eichmana fourth-generation descendant of David Whitney